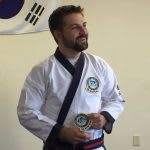 Master Okyen
Master Michael Okyen is a 4th-degree black belt in Tang Soo Do with almost 10 years of teaching experience. He began training in 1996 on Maxwell A.F.B. in Montgomery, AL and was immediately hooked.
After a hiatus in high school, Master Okyen rekindled his love of Tang Soo Do at Virginia Tech (VT) in the club run by Master DuScheid. Upon Master DuScheid's graduation, Master Okyen took over as President and Head Instructor of the club. He would hold these positions for almost 4 years while completing his bachelor's and master's degrees. Throughout his tenure, the club achieved record membership. It also became the only college club to be recognized as an official school by the ITF. It was also through the club that Master Okyen met his future wife, Jessica Okyen.
Master Okyen's greatest passion is for learning and to facilitate the learning of others. While at VT, he enjoyed the challenge of working with a wide range of students. He brings a number of unique experiences into his teaching, from spending a summer in Korea to learn more about the culture to training in judo and jiu jitsu to training with weapons like nunchucks and escrima.