Adult Martial Arts Classes In Apex Offers Traditional Instruction With REAL Life Benefits
Our Adult Martial Arts classes use the traditional teachings of Tang Soo Do as a tool to help you improve every part of your life. From getting a great workout to reducing your stress and learning practical self-defense skills, what we teach at Triangle Karate has real benefits. You'll gain confidence, improve your focus, and reap the rewards in everything from your personal life to experiencing greater productivity at work.
The International Tang Soo Do Federation was found by Choong Jae Nim in 1984 with the focus not only on physical ability, but also places heavy emphasis on spiritual improvement. Through the strength in our discipline, we strive to spread these authentic techniques and teachings here at Triangle Karate and throughout the world.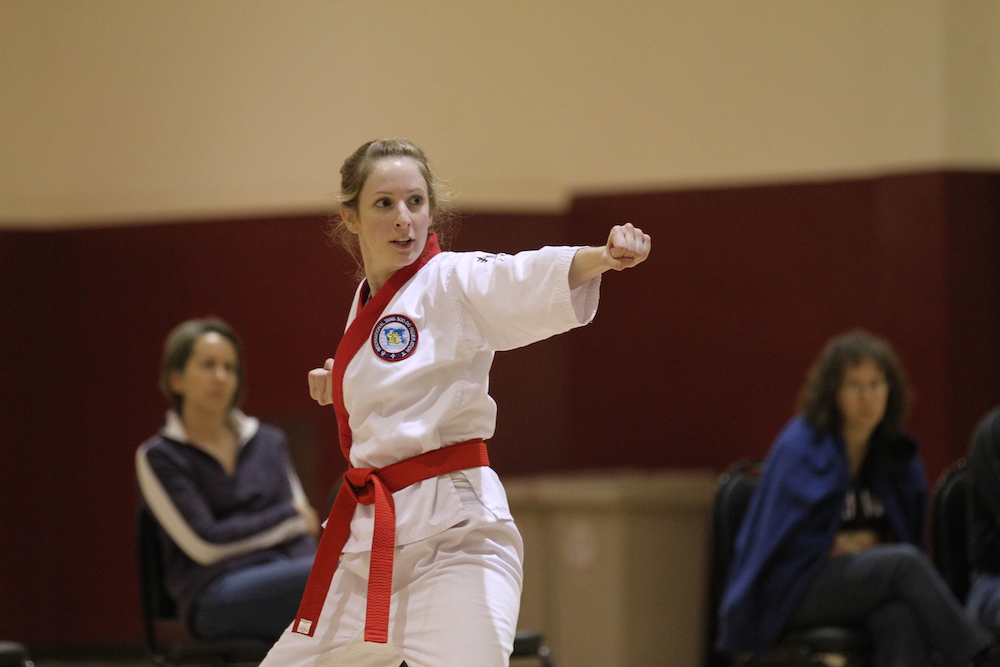 Anyone from across Apex is welcome to join us in learning the ins and outs of Tang Soo Do!
Just fill out the short form below to learn how Adult Martial Arts classes can help you!
What Makes Our Adult Martial Arts Classes Different?
Triangle Karate is North Carolina's first certified International Tang Soo Do Federation School. It is our goal to help you grow mentally and physically through martial arts. Our classes are designed to help you become the best version of yourself! After just a few classes, we guarantee you will notice a difference in all aspects of your life!
Our Adult Martial Arts program uses Tang Soo Do to help you lose weight, build lean muscle, and get a total-body workout. You'll sleep better and have more energy. You'll also experience the confidence that comes with learning self-defense! Join us in Apex and get professional guidance on your fitness, plus connect with the incredible community we've developed here at Triangle Karate. You can even train with your kids during our classes.
Enroll in Adult Martial Arts
and get access to:
A sustainable workout routine to lose weight and build muscle
Personalized guidance from experienced martial artists
Self-defense skills to protect yourself and your loved ones
An encouraging, uplifting community to support you
Join us in Apex and experience the benefits of Adult Martial Arts:
Burn up to 600 calories per class (webmd.com) and sustainable exercise routine that will help you lose weight

Increased working memory according to Palermo University

Practical self-defense skills that will keep you safe in any situation

The support and motivation of our certified instructors and helpful community

93% of martial artists gained confidence according to University of Toronto research
Training at Triangle Karate will offer you everything from reduced stress in your everyday life to greater energy. Our Adult Martial Arts classes are about more than just fitness. They're about connecting with our Apex community, living a better and healthier life, and learning self-defense. We want adults to enjoy the many health benefits that come with Tang Soo Do and empower themselves with the skills to thrive in an increasingly competitive world!
Sign Up For Powerful Adult Martial Arts Classes Today!
Triangle Karate proudly caters to individuals of all ages, backgrounds, and abilities. If you're interested in our Adult Martial Arts program but you have concerns or reservations, feel free to speak with one of our caring instructors about how we can help you connect with Tang Soo Do! We offer the highest quality and most inclusive martial arts program in the Apex area, and we'd be proud to have you.
Just fill out the short form below to get started!