Get Started With The Best Kids Karate in Apex!
Our mission at Triangle Karate is to help your child develop lasting life skills, setting them up for success in both their scholastic and professional lives. Our students learn self-confidence, discipline, and how to set and achieve big goals! Kids Karate classes are about more than punches and kicks -- we focus on teaching Tang Soo Do, and incorporate fun activities and games throughout each class, so your child will grow, become fit, and learn all at the same time!
International Tang Soo Do Federation was found by Choong Jae Nim in 1984 with the focus not only on physical ability, but also places heavy emphasis on spiritual improvement. Tang Soo Do will help your child to focus, become more respectful, honest and patient.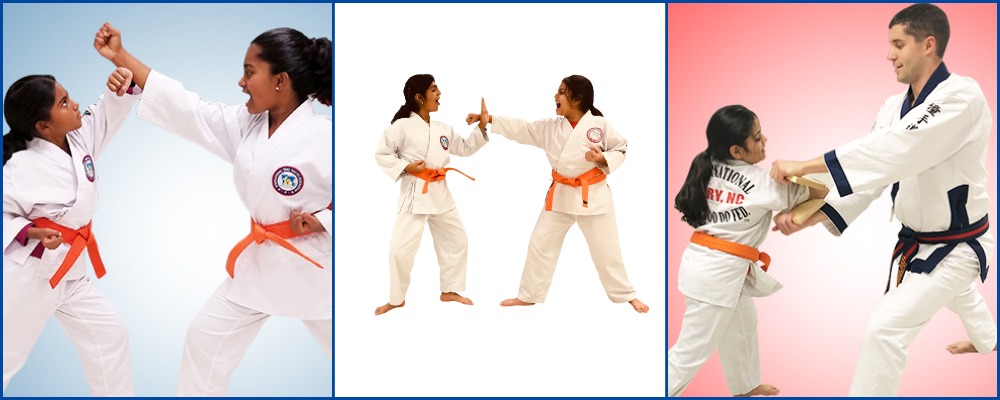 Visit our dojang in Apex, contact us, or simply fill out the short form below to learn more about our Kids Karate program!
Kids Karate Classes Have Lasting Benefits
Karate and Tang Soo Do have a long history of helping students cultivate mental, physical, and spiritual growth. Here at Triangle Karate, we want to help our students build the self-confidence they need to chase their dreams and the discipline necessary to make those dreams happen.
When your child trains with us, they'll learn about how to set smart goals and achieve big things, and that hard work pays off! The journey from white belt to black belt is a long one, but if you visit our dojang here in Apex, you'll see that it's a fun and exciting journey, too! We'll connect your child with new friends and mentors, provide them with professional supervision in a safe and supportive environment, and empower them through the fundamentals of Karate!
Our Kids Karate program offers:
Unwavering confidence for each and every student
Improved self-discipline & sharper focus
Goal-setting skills & perseverance
The values of courtesy, compassion, & respect
Addition benefits and recommendation include:
Improved self-discipline by parenting.com
Improved focus by Attitude Magazine
Advanced martial artists are bullied 42% less than the average child
Your Child Will Love Kids Karate Classes
In addition to helping your child grow, we want our classes at Triangle Karate to be fun and exciting! Each class is a high-energy experience that will also help your child to create lifelong habits of physical fitness. They'll develop gross motor skills, hand-eye coordination, and strength.
Apex has its fair share of team sports, but enrolling your child in Kids Karate is the ultimate method for helping your child grow mentally as well as physically!
Join us at Triangle Karate and help your child:
Improve their hand-eye coordination
Increase their speed, strength, & agility
Learn anti-bullying habits
Establish lasting habits of physical fitness
Your Child's Karate Journey Can Start Today!
Tang Soo Do produces real results. Enroll your child in our Kids Karate classes or visit our dojang and see for yourself how we've helped students from across Apex, Cary, and Holly Springs become the best they can possibly be! Our team at Triangle Karate is committed to your child's success, and we want to help them kickstart their lives with a strong foundation through the martial arts.
If you have questions about our Kids Karate classes, contact us or simply fill out the form below and we'll reach out!