Experience the Benefits of Traditional Martial Arts
Could your child use a bit more confidence? Do you want them to be able to protect themselves with real world self-defense? Do you want to see them have better focus and self-discipline?
Well at Triangle Karate, we offer all of that and more! Our Kids Karate classes use the traditional teachings of Tang Soo Do to help students across Apex find success on and off the mat! Since our curriculum is based on the same instruction that started hundreds of years ago, we guarantee your child will walk away feeling more confident and focused than ever. We're proud to be a certified International Tang Soo Do Federation school!
We train students of all skill levels from ages 6+. Just fill out the short form on your screen to learn more about our system today.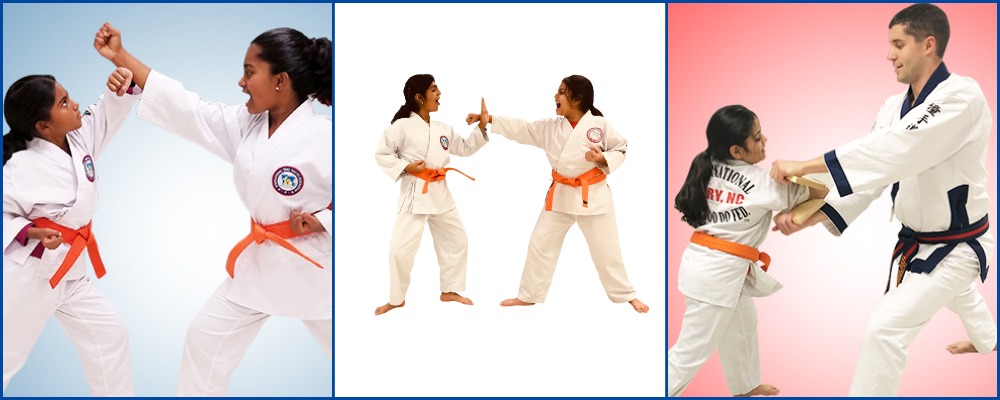 Our Kids Karate Classes Teach Confidence, Discipline, And More!
Self-confidence can be one of the most important skills for a young child to develop. Some students are born with it. Others have to learn it for themselves.
At Triangle Karate, we're committed to helping students all across our community build the self-confidence they need to face life with courage and find success in everything they do.
We are certified International Tang Soo Do Federation instructors with decades of combined teaching experience that can help students develop new skills and feel great about themselves along the way.
Experience the benefits of traditional martial arts in Apex:
93% of martial artists gained confidence in University of Toronto study
Recommended by Attitude magazine for improved focus
Recommended by parenting.com for improved self-discipline
What Makes Us Different?
We are a small community martial art school. When visiting our martial art school you will see that your child will not get lost. We are not an assembly line or 'belt factory' but instead focus on quality.
Triangle Karate is also a traditional martial art school. This means that you will not see us playing dodgeball in class but instead practicing the traditional martial art of Tang Soo Do. This distinction is where students truly gain the above benefits of martial arts, we hear it all of the time! Even better, the students enjoy the classes.
Triangle Karate is also a proud member of the International Tang Soo Do Federation (ITF). The ITF focuses on maintaining the high standards of traditional Tang Soo Do across it's members schools in the USA. The ITF is not just an organization that we pay money to but instead an organization that constantly supports us. ITF instructors visit us from North Carolina to Maryland, and even our Grandmaster Kim has visited us.
Students that start with us first go into private lessons. We will not throw students in the middle of a class and expect them to keep up. Instead we will help them to gain the fundamentals and confidence before they are ready to join the group class.
Triangle Karate also provides a flexible class schedule so that students can have commitment, but still also pursue other interests. Even better, our classes includes children and adults so that parents can train with their children at the same time!
Parents - click here to learn more about our adult program.
Don't Miss Out On The Best Kids Karate Classes In All Of Apex
At Triangle Karate, we're proud to offer an exciting environment where students all across our communities can challenge themselves and feel great about themselves along the way. Join us here in Apex and treat your child to the best Kids Karate classes in town.
We train students students of all experience levels above the age of 6+. Just fill out the short form on your screen to learn more today!